June 13, 2005
OVER THE HILL?
*The audience members at Saturday's Vibe MusicFest in Atlanta have unwittingly become the latest victims of Lauryn Hill's weird behavior of recent years.
The reclusive singer emerged from hibernation to take the stage in 60s getup and an apparent mushroom wig to perform at the event, reports the Atlanta Journal-Constitution. From the opening song, "Doo Wop-That Thing," it was apparent that the Lauryn Hill of old - with those unmistakable pipes that powered the "The Miseducation of Lauryn Hill" album to five Grammys – would not be making an appearance.
The Journal-Constitution's Sonia Murray said "her band was distorted, and her usually full, soulful voice was unusually raw and weakened."
After plodding through three more "Miseducation" tunes and reciting a poem, Hill abruptly bounced to a round of silence. "No applause. No boos. No anything, except perhaps stunned silence," wrote Murray. The venue's curfew was soon tossed around as a possible reason for the sudden ending.
Wearing an afro, oversized lashes and black turtleneck under a gray, scoop-neck sweater, Hill also appeared on the pre-taped season premiere of HBO's "Russell Simmons presents Def Poetry" that aired Friday night. Greeted with a standing ovation, she barely looked up from her notes while reciting a poem entitled "Motives and Thoughts." When it was over, Hill said "thank you," straightened her papers and gave the audience a slight grin.
(LAURYN AT THE VIBE MUSICFEST)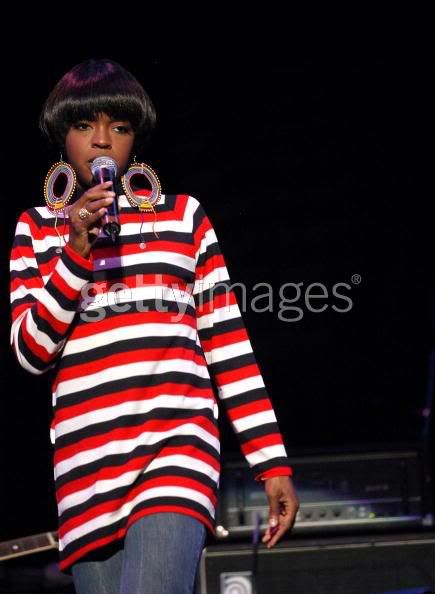 ROWLAND DOWN THE RIVER
*Kelly Rowland is taking a page out of Beyonce's book on how to keep your mouth shut about personal relationships. The singer, who announced her engagement last May to Dallas Cowboys football star Roy Williams after a six-month courtship, called off the wedding and is refusing to discuss what she's doing with the ring. "I'm not telling. And before you ask, there's no one new. It has its up and downs being single," Rowland said according to WENN. "But I never will again (talk about my boyfriends). I get it now - the next time I fall in love, I'm just going to shut up."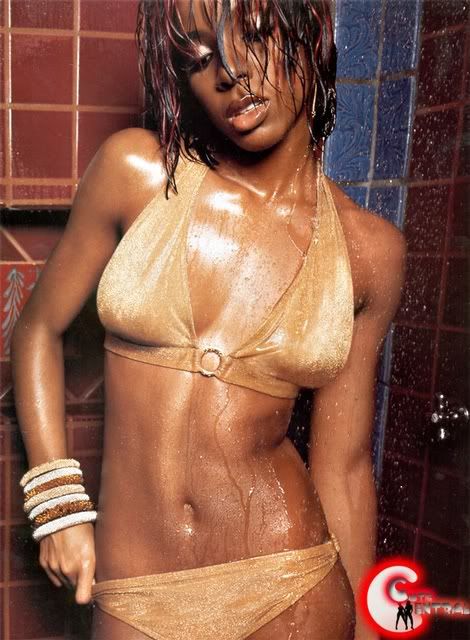 IN OTHER DESTINY'S CHILD NEWS:
Perhaps it wasn't destiny after all. The members of DESTINY'S CHILD made a surprise announcement on stage in Barcelona on Saturday night, saying they will disband at the end of their current Destiny Fulfilled… and Lovin' It tour. (Guess they aren't really loving it.) Kelly Rowland made the announcement before 16,000 fans at Spain's Palau Sant Jordi, saying that it would be the group's last European gig. The band then released a statement to MTV News: "We have been working together as Destiny's Child since we were nine, and touring together since we were 14," the statement read. "After a lot of discussion and some deep soul searching, we realized that our current tour has given us the opportunity to leave Destiny's Child on a high note.I happen to love Destiny's Child so I have nothing bad to say.Good Luck Beyonce,Good Luck Kelly,Good Luck other one.
THE "EALY" BIRD CATCHES THE WORM
A couple of years ago in Chicago, I met an ex-friend of mine on the set of her movie, it was Eve(yup the rapper).Anyway,she introduces me to the cast and to this gorgeous man with eyes like mine,it was Michael Ealy.Michael and I flirted all day on the set,he even showed me his neck kissing technique.I asked him for his number and he said"I don't mess with fine ass girls like you,you'd just break my heart"and I believed him.A little later he started dating Halle Berry and do you know what I think?...I think he thinks I was more fine than Halle Berry.
Anyaway here's the latest on Mr.Ealy:
*Word has it that Halle Berry is back with her ex-boyfriend Michael Ealy. The couple reportedly split last year after Halle made it clear she didn't want to walk down the aisle again following marriages to Eric Benet and David Justice. A source tells IMDB: "Halle and Michael got back together in late April intent on working out their problems.I wish them luck...bad luck,I saw him first!!